Applying for jobs may be a serious business, but some candidates choose to show off their creative flair to stand out in a competitive job market.
Ingrid completed her degree at Falmouth University before going to study a Masters in Glasgow. Missing Cornwall she began applying for jobs in the Duchy but recognised that as there were not as many opportunities as in larger cities the competition was fierce.
" I saw one advert that encouraged creative applications so I decided to make a video, I wanted it to be professional but I would be sending in my CV as well so I thought this could actually be a fun thing, not just a serious thing.
I wondered what I could use, as I didn't have a fancy camera so I made the animation using my phone and some editing software that came with my computer."
Watch Pirate FM's Managing Director on what he looks for in applications and the value vs risk or 'gimmicks'.
Ingrid has some tips for anyone applying for jobs:
"Even if you're applying for lots of jobs at a time, make sure you make each one unique…Whenever I put in an application I would make sure to research the company and include a paragraph in my covering letter about why I was right for the job.
I would write about myself and my experience and in the last paragraph I would always write about the company "…and this is why I think I could work for you!"
She also explains how taking a creative approach can help potential employers get a clearer picture of you, your experience and why you would fit in their organisation:
"Your CV doesn't tell the whole story, it lists the milestones along the way but not the direction you were heading for at the time. My interests changed after university and I thought that my change of direction might be confusing to employers. I wasn't getting any response from applications so thought I'd try something different."
Ingrid's initiative in thoroughly researching the companies and roles she was applying for, as well as her creative approach in selling her skills and interests, paid off. Ingrid now works for Cornwall and London-based film production company Beagle Media and has worked on productions for UBS as well as The Prince's Trust and Amazon.
Check out some of our favourite quirky ways applicants have attracted the attention of employers:
Copywriter Chase Zreet really wanted to work for Wieden + Kennedy, the agency that creates campaigns for Sprite. To stand out Chase wrote and performed a three minute rap to demonstrate his enthusiasm for the client and potential to make ads for them. Via AdWeek
The company snapped him up, with creative director Jimm Lasser saying "There's too much emphasis put on portfolios, and not enough on the creative enthusiasm of a candidate. Chase made a great ad about himself. He persuaded us to invest in him. He won us over."
Adam Pacitti wanted to work in the media and had been out of work for months, he took the bold move to buy advertising billboard space which read "I spent my last £500 on this billboard, please give me a job."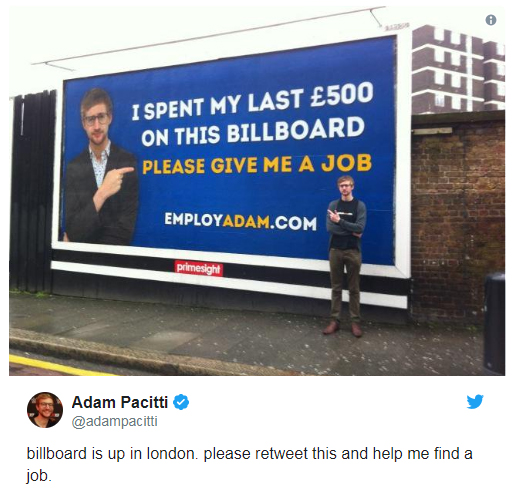 https://twitter.com/adampacitti/status/286482369836367872
The billboard was a success, with EmployAdam.com being inundated by more than 1.5 million hits after going live. Adam's guerrilla 'billboard over job board' approach worked for him, he received more than 60 job offers and accepted one with KEO Digital, the production company behind the Banksy documentary Exit Through the Gift Shop.
Page Kemna was looking to make the first steps in her professional career after university and decided to take a different approach to job hunting, writing and recording a song about her skills – subtly titled "Hire Me!!"
The video went viral after she uploaded it to LinkedIn and it caught the attention of a recruiter at Zoom Video Communications, where she now works as an Account Executive.